Our Bulk Department boast 999 items, making it one of the largest in the northeast! *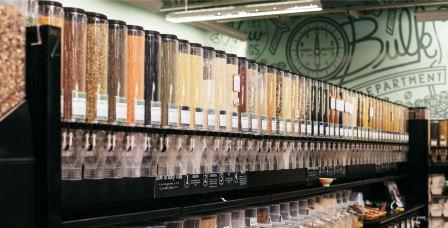 Honest Weight Food Co-op started out as a bulk foods buying club back in 1976, so we think of bulk as our flagship department. In today's culture of ready-to-eat and food-on-the-go, we invite you to peruse our huge bulk department and enjoy the colors, textures and scents. Here you can get all of the whole and natural ingredients you need to make...well, just about anything!
Plus, in our Bulk Department, you can buy as much as you want or as little as you need. A teaspoon of nutmeg? No problem. A fifty pound bag of all-purpose flour? We can do that, and we'll help you carry it to your car.
With everything from popular favorites like freshly-ground peanut butter and coffee to items you've been meaning to try, like avocado oil or brown rice pasta, you won't believe what you can get with 20 bucks. That's because our bulk foods use less packaging, processing and labor. That saves us money so we can pass the savings directly on to you. Just scoop and save.
See more reasons to shop in Bulk! Not sure how? Click here for tips!

If you get home and can't tell which baggie is filled with baking powder and which one has baking soda, look up the PLU number here!

* We have 999 items in our Bulk Department as of 12/2016. Items available will change according to product availability.